Google's Toronto city built 'from the internet up'
It hopes the project will become a model for 21st-Century urbanism.
But the deal has been controversial, representing one of biggest ever tie-ups between a city and a large corporation.
And that, coupled with the fact that the corporation in question is one of the largest tech firms in the world, is causing some unease.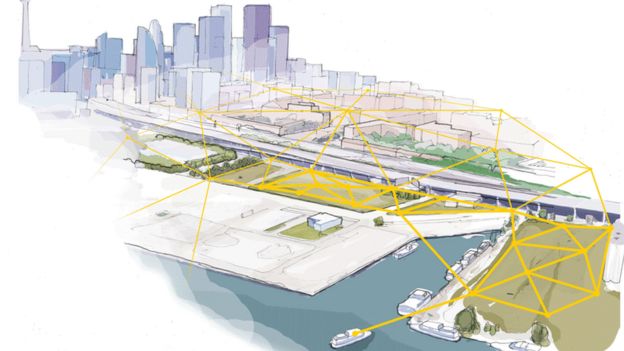 The city envisaged by Sidewalk Labs would collect data from a range of sources
Sidewalk Labs promises to transform the disused waterfront area into a bustling mini metropolis, one built "from the internet up", although there is no timetable for when the city will actually be built .
People would be encouraged to walk cycle or use self-drive taxis to get around
Underground robots
The firm has some pretty radical ideas for the city including:
Self-driving cars – controlled by app – to be the backbone of neighbourhood transport
Reimagining of buildings via a concept known as The Loft – strong structures (wood not steel) but flexible interiors so usage could be changed as needed
Weather control – to encourage citizens to make the most of outdoor space, retractable plastic canopies will shelter people from rain while heated pedestrian and bike paths will melt snow